How Dental Insurance Can Save Your Employees Money
Posted on November 16, 2023
Share via
This blog was first published by Delta Dental of Arkansas, reposted with permission.
Read the original article here
Trigger warning: math.
This blog contains a math problem.
What's the value of dental insurance for your employees? Let's do a little math so that you, a business owner, can illustrate to your staff how dental insurance can save them (and you) money.
How Dental Insurance Makes Financial Sense
Let's compare two of your employees, A and B.
Both have a family of 4 who visit the dentist twice a year for preventive visits. That's 8 preventive care visits per family.
In both families, the kiddos have cavities and require 4 fillings.
Employee A signed up for voluntary group dental insurance through you, her employer. She pays 100% of the monthly premiums.
Employee B declined to enroll in the employee benefit of group insurance. He pays cash for all dental care needs, including preventive care visits and dental treatments.
Comparison: Dental Expenses With and Without Insurance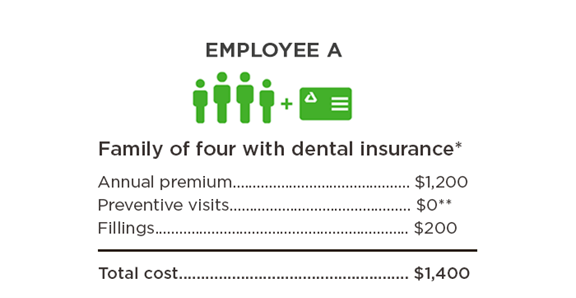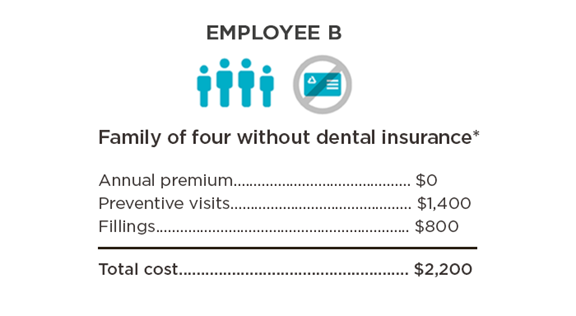 Notice the difference:
Employee A incurred a total cost of $1,400. Employee B paid a total of $2,200.
Thanks to dental insurance, Employee A saved $800 compared to Employee B without insurance.
How Does Dental Insurance Save Your Employees Money?
Let's unpack this comparison.
How come Employee A saved almost 40% on dental costs compared to Employee B even though she incurred the expense of monthly premiums?
There are two main reasons why dental insurance can lower out-of-pocket costs:
The dental insurance company usually covers preventive check-ups and professional dental cleanings at 100%. Employee A paid zero dollars for her family's 8 preventive dentist visits. Without insurance, Employee B paid a total of $1,400 for the same number of visits.Notice that Employee B's paid more for 8 eight preventive care visits than Employee A for all 12 monthly premiums. You could make a case that the monthly premiums paid for themselves.
The dental insurance company negotiates lower fees with in-network dentists for services. Consider it a discount for members. That's why Employee A paid 75% less for fillings than Employee B, who paid the full cost.
But that's not all. Dental insurance results in yet more cost savings.
Dental Insurance Can Prevent Expensive and Painful Dental and Other Health Conditions
Knowing they don't have to pay out of pocket for preventive care visits is likely to serve as an incentive for your employees and their families to see the dentist regularly for regular check-ups and professional cleanings. Two annual visits are recommended for most people.
The Value of Detecting and Treating Emerging Dental Diseases
During those regular visits, a dentist can discover and treat emerging dental diseases before they turn into more complex and expensive procedures. Taking action when tooth decay and gum disease are in their early stages will protect your employees' smiles and checking accounts.
In contrast, people without insurance are at a higher risk of skipping needed treatments due to cost and needing emergency care. It is estimated that untreated but preventable dental diseases result in more than 2 million emergency room visits each year.
And there's more.
Dentists are Disease Detectives
Dentists don't just look for cavities and plaque buildup. They can detect as many as 120 other health conditions during a routine exam, including diabetes, heart disease and kidney disease. This can lead to timely, less costly and potentially life-saving treatment.
Now your employees have 120 more reasons to sign up for dental insurance and take advantage of preventive check-ups.
Dental Insurance Can Save Your Employees Time and Hassle
Many dental insurance companies offer time-saving tools and apps to make it easier to find a dentist or check on benefits. Visitors to the Delta Dental of Arkansas website can use—for free:
the Find A Doctor tool to find a local network dentist or eye care provider, including specialists.
the DentaQual rating tool that scores in-network providers on 5 different performance metrics, such as
treatment outcomes
commitment to best practices
cost-effectiveness
patient retention and
treatment recommendations.
a Cost Estimator to approximate cost ranges for common dental care procedures.
the Member Portal for to manage one's dental or vision account, view and download ID cards, access and download explanations of benefits, review plan benefits and more.
Dental Insurance Adds Value to Your Business
We rest our case on how dental insurance benefits your employees. But how about you, the business owner?
Research shows again and again that providing attractive employee benefits can contribute to employee loyalty and productivity and thus increase your profitability.
In fact, 55% of surveyed employees said they left jobs in the past because of inadequate benefits or perks.
Delta Dental Offers Many Dental and Vision Insurance Plans for Small Businesses
Check out our portfolio of dental and vision insurance plans specially designed for small businesses. With as few as 2 employees, you can get started with your goal of offering an attractive employee benefits package.
We deliver valuable benefits at affordable rates, eliminate complicated benefits administration and cover more than the bare minimum with rich plan designs—that's the Delta Dental Difference®.
And we keep things easy for our small-business dental and visions plans:
simple application
no underwriting
ability to manage your benefits online, including monthly premium payments
option to sign up for voluntary plans where employees pay 100% of the premiums.